"I have traveled the world to see mountains and oceans. But I did not pause to witness the solitary dew drop on a single blade of grass just beyond my doorstep." — Tagore
Graduate Training:

ABD, Visual and Social Anthropology, University of Southern California
Undergraduate:
Applied History, Carnegie Mellon University
Professional Affiliations:
American Anthropological Association
International Documentary Association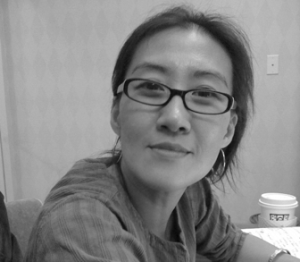 bio
Yoon is a visual ethnographer who has over 10 years experience in ethnographic research and video production. This includes consulting on ethnographic projects for a major health care innovation center, where she conducted field research on health navigation and developed a proprietary qualitative asset management system, StoryBank, a searchable online database for managing, sharing and archiving of field data.

Yoon has also worked on a number of ethnographic and documentary films. She edited the documentary, Taking the Heat, which was telecast nationally on the award-winning PBS series, Independent Lens. The film is now shown in university classrooms and in diversity training programs at CAL Fire and other fire services. For the Korean Ministry of Culture, she documented Korean diasporic communities in Japan, China, Kazakhstan, and Los Angeles, to provide an historical and cultural context of Korean transmigration. This work was exhibited in a video installation at the 2002 Kwangju Bienale International Art Expo. Her current documentary project,Betty and Oree, is currently in post-production.

Yoon received her training in visual anthropology and social anthropology from the University of Southern California (as well as on the streets of New York and Los Angeles).